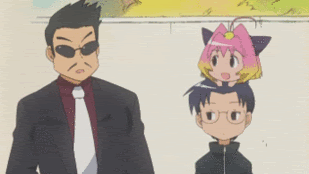 All of two episodes in and Potemayo is already by far the most emasculating experience of my entire life.
And, as anybody who reads this blog knows, I like some embarassingly cutesy shit.
On that note, the third season of Hidamari Sketch is a huge disappointment. More on that later. Because I know you love it.
Also, random images of other things I've watched lately.
Moe baseball with no cheeky mouths.
Social commentary and pretty colours.
Re-used footage followed by THE MOST MIND-BOGGLINGLY OVERBLOWN FINAL BATTLE EVER. (also "The drills are pointing up!" More on that later as well, maybe)
I would totally have done a scathing review of Avatar by now, but I just can't be bothered to go and see it. I'm sorry. If I even had the time I'd go see Ponyo instead, but that seems to have a very limited showing (cunts), and those few cinemas may not even be screening it anymore by next weekend when I'll be free!
To add to the "What I've been X-ing recently" list, lately I have been listening to Alarm Will Sound's covers of Aphex Twin (got it on right now, in fact), and lots of Susumu Yokota and Boards of Canada.
Oh, I also rewatched Laputa recently. It's basically Nausicaa + Kiki's Delivery Service + Porco Rosso + maybe Lupin III but I'd forgotten how FUN it was. GAR women and children. Moe robots. Driving on train tracks. Fuck yeah.